Harloff Capital Management
Serving Westlake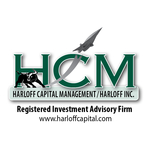 Portfolio mgmt, fee based, strategies by a Ph.D
795 Sharon Dr Ste 226
Cleveland, OH 44145
Main (440) 871-7278
website
Business Hours
Monday: 9:00am - 5:00pm
Tuesday: 9:00am - 5:00pm
Wednesday: 9:00am - 5:00pm
Thursday: 9:00am - 5:00pm
Friday: 9:00am - 5:00pm
Saturday: 9:00am - 5:00pm
Sunday: 9:00am - 5:00pm
Payment Accepted
Check
More about Harloff Capital Management
Client portfolio risk and return are actively managed with discretion by original strategies on a global scale. Strategies developed by a Ph.D. over many years include market timing. Fee-based fiduciary registered investment advisory firm - no commissions. Very different from broker and planner services.
Original market research began in 1970; HCM is driven by quantitative analysis of original strategies not available elsewhere. Harloff Inc, dba Harloff Capital was founded in 1981 to do stock market research; in 1994 became a Registered Investment Advisor (RIA) firm.
HCM serves successful individuals, family offices, and institutions. We offer advanced quantitative portfolio management beyond both common-planner-portfolios and technical analysis means. Our original strategies, developed by a Ph.D. over many years, adapt with market conditions. President- Sally Harloff.
Founder and Owner: Dr. Gary J. Harloff, Ph.D., V.P.; Rocket Science Helps!
Before starting money management RIA firm Dr. Harloff worked as a scientist-engineer-supervisor. He has specialized training in math modeling by earning Ph.D., M.S., and B.S.A.S.E. degrees in Aerospace Engineering. He has two U.S. patents, and held security clearances with D.o.D. and D.o.E. He began full time money management in 1995 and has over 40 years of original stock market research. He edits the monthly newsletter The Intelligent Fund Investor for 21 + years. He holds a series 65 securities license. Call 440-871-7278.
Related categories for Harloff Capital Management
Copyright © 2016 Topix LLC