Eagle Cleaning Service, LLC
Serving Seymour

Eagle Cleaning Service Now Offers Oriental...
Main (203) 881-2005
website
Business Hours
Monday: 9:00am - 5:00pm
Tuesday: 9:00am - 5:00pm
Wednesday: 9:00am - 5:00pm
Thursday: 9:00am - 5:00pm
Friday: 9:00am - 5:00pm
Saturday: Closed
Sunday: Closed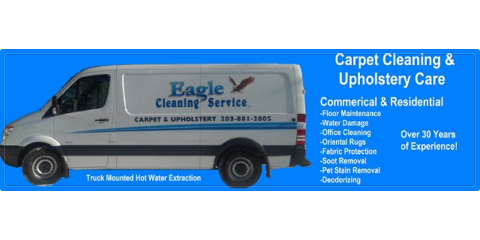 Eagle Cleaning Service
More about Eagle Cleaning Service, LLC
Since 1990, Eagle Cleaning Service has served as Seymour, CT's premier carpet and upholstery cleaning company. Offering a wide range of services, from oriental rug cleaning to pet stain removal, their team of experienced technicians has a well-earned reputation for being the best in the business. Whether you need commercial carpet cleaning or affordable floor maintenance, choose Eagle Cleaning Service for a job well done. Looking for spot removal that works? Leave it up to the professionals at Eagle Cleaning Service. These fabric experts will inspect your stain and determine the best solution to remove blemishes while keeping your rugs and carpet safe. If you think you can lift the stain yourself, think againput down that bottle of over-the-counter carpet cleaning solution and protect your fabrics from unwanted damage with the help of Eagle Cleaning Service. Are your carpets dirty? Eagle Cleaning Service uses the industry's best carpet cleaning equipment, ensuring that your floors are not only clean but sanitary. By using their state-of-the-art multi-stream truck mounted extraction system, their trained staff will clean your carpets at 200 degrees, guaranteeing to kill bacteria and lift any grime or gunk right out of the fibers. Need your furniture cleaned, too? Not a problemEagle Cleaning Service will use their special upholstery attachment to deliver the same results that you'll see in your carpets. If you're looking for janitorial services for your business, Eagle Cleaning Service has you covered. Their janitors are available around the clock, meaning they can come whenever you need them. Offering comprehensive cleaning of your entire commercial property, they'll keep your floors clean and your bathroom sparkling. Need floor refinishing? Eagle Cleaning Service can handle any floor type, from vinyl and linoleum to ceramic and natural stone tiles. Contact Eagle Cleaning Service today for a free estimate by calling (203...
Related categories for Eagle Cleaning Service, LLC
Copyright © 2016 Topix LLC