Law Offices of Cleveland & Metz
Serving Rancho Cucamonga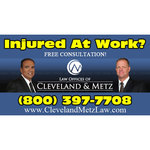 Workers Compensation & Accident Attorneys-Abogados
9330 Baseline Road Suite 100
Rancho Cucamonga, CA 91701
Main (909) 980-9703
Toll-free (800) 397-7708
Alternate (951) 275-9262
website
Business Hours
Monday: Open 24 hours
Tuesday: Open 24 hours
Wednesday: Open 24 hours
Thursday: Open 24 hours
Friday: Open 24 hours
Saturday: Open 24 hours
Sunday: Open 24 hours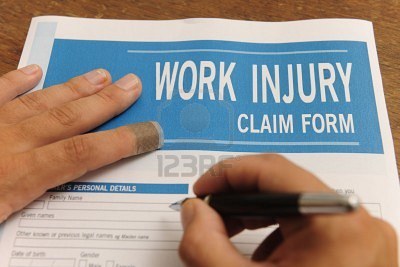 We can help you through the workers compensation claims process. Insurance companies have attorneys representing them, so should you. Le podemos ayudar a través del proceso de reclamaciones de la compensación de trabajadores. Las compañías de seguros tienen abogados que los representan, usted también.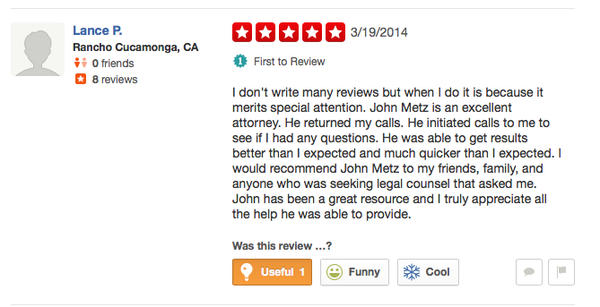 Reviews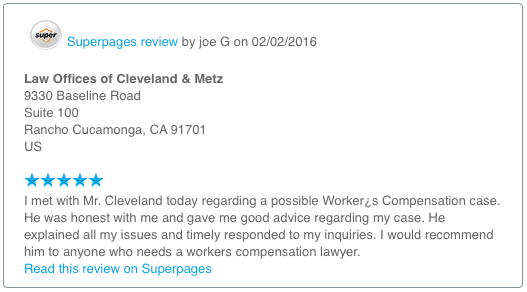 Reviews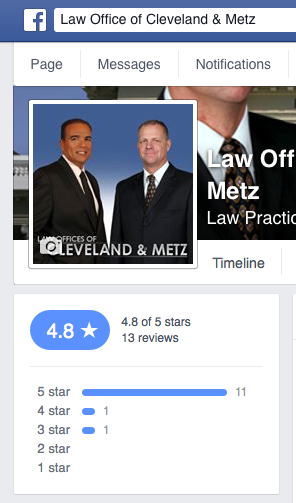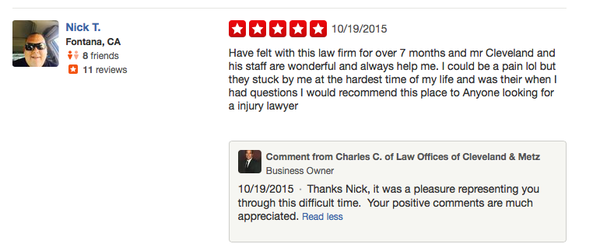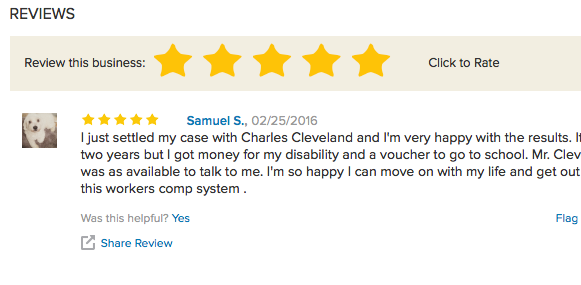 More about Law Offices of Cleveland & Metz
The Worker Compensation Attorneys and Personal Injury Lawyers at Law Offices of Cleveland & Metz focus their practice on representing injured workers and their families in workers compensation claims If you have suffered a work injury, suffered a work comp claim relating to your job or been in an accident, you are going to need to need an experienced attorney to guide you through the maze of workers compensation.
Charles Cleveland is a Certified Specialist in Workers Compensation Law with The State Bar of California Board of Legal Specialization.
John Metz is an experienced jury trial attorney.
Over $100 million dollars recovered for injured workers and accident victims! Call now toll free for 24 hour service
Los Abogados de Cleveland & Metz se centra su prctica en representacin de los trabajadores lesionados y sus familias. Si usted tiene sufri una lastimadura en el trabajo, sufri un reclamo de herido de trabajo relacionados con su trabajo o sufrido un accidente, van a necesitar que necesitan representacin legal para ayudarle con su indemnizacin de los trabajadores a reclamar. Nuestros abogados estn aqu para ayudarle.
Ms de $100 millones de dlares recuperados para los trabajadores lesionados y vctimas de accidentes! Llame al nmero gratuito de servicio 24 horas
Related categories for Law Offices of Cleveland & Metz
I was a typist and data entry clerk for over 15 years when I started getting pain in my wrists and elbows. The company doctor said nothing was wrong with me and sent me back to work. I still had pain so I hired Mr. Cleveland to handle my case. Mr. Cleveland sent me to Dr. Wood who listened to me and he arranged my treament including a surgery on my left wrist. It was a difficult time for me and Mr. Clevelands paralegal Naomi was always helpful and understanding. I am very happy with the work they have done so far on my work injury case.
Copyright © 2017 Topix LLC