Lyn Lake Chiropractic
Serving Minneapolis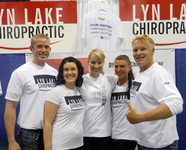 Free Chiropractic Consultation
2937 Lyndale Ave S
Minneapolis, MN 55408
Main (612) 879-8000
website
Business Hours
Monday: 8:30am - 6:00pm
Tuesday: 2:00pm - 6:00pm
Wednesday: 8:30am - 6:00pm
Thursday: 2:00pm - 6:00pm
Friday: 8:00am - 6:00pm
Saturday: Closed
Sunday: Closed
Payment Accepted
American Express, Cash, Check, Diners Club, Discover, Invoice, MasterCard, Visa
Lyn Lake Chiropractic treatment team!
More about Lyn Lake Chiropractic
Chiropractic, minneapolis chiropractor, auto injury clinic, Specialize in whiplash injuries, Sports Injuries, neck pain, back pain.
Auto Accident Injuries
If you happen to be in an auto accident and have injuries from the auto accident, Lyn Lake Chiropractic specializes in treating Auto Injuries such as whiplash. Even if you are just sore, you should get checked out immediately because you may experience serious health problems many months down the road. We have everything you need to help you get started on the road to recovery.
Unlike conventional medicine, which focuses on attempting to treat disease once it occurs, Lyn Lake Chiropractic clinic emphasizes improving your health in an effort to reduce the risk of pain and illness in the first place. Most people would rather be healthy and avoid illness if they could. This is one of the main reasons for the recent surge in the popularity of chiropractic care.
Related categories for Lyn Lake Chiropractic
Neck pain gone, arm pain gone, low back pain 99% better so I'd say that's gone thanks to my wife for finding lyn lake chiropractic on the web. The chiropractors (doctors) took extra time looking at my issues and with the x-rays and a plan to correct my issues that keep causing me pain at work and the best care I'm back to moving around like I'm 30 yrs old instead of that oh my I'm getting old comment that was driving my wife crazy. Boyea!
Copyright © 2016 Topix LLC