HomeTeam Inspection Service
Serving Louisville
Call us now
Main (502) 785-8142
website
Business Hours
Monday: 12:00am - 11:59pm
Tuesday: 12:00am - 11:59pm
Wednesday: 12:00am - 11:59pm
Thursday: 12:00am - 11:59pm
Friday: 12:00am - 11:59pm
Saturday: 12:00am - 11:59pm
Sunday: 12:00am - 11:59pm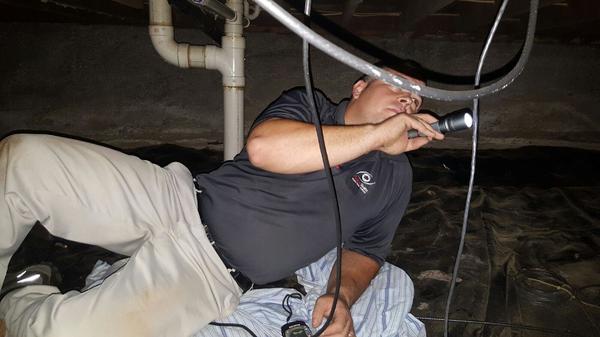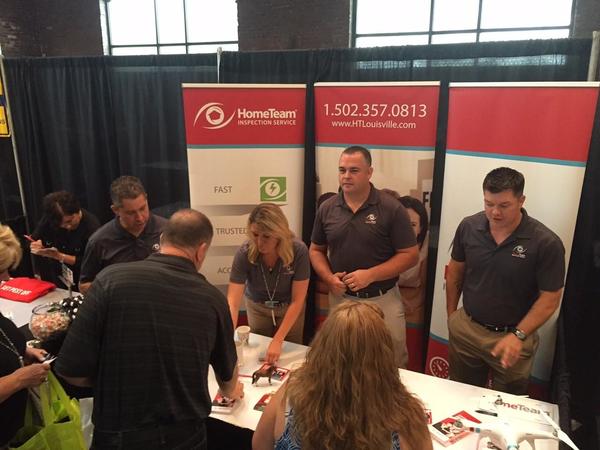 Community Event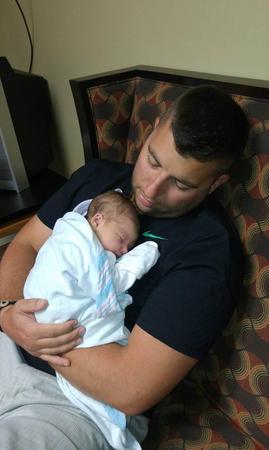 Little Harper was born on her due date, July 4th. Congrats to Katie and Andy, and welcome Harper!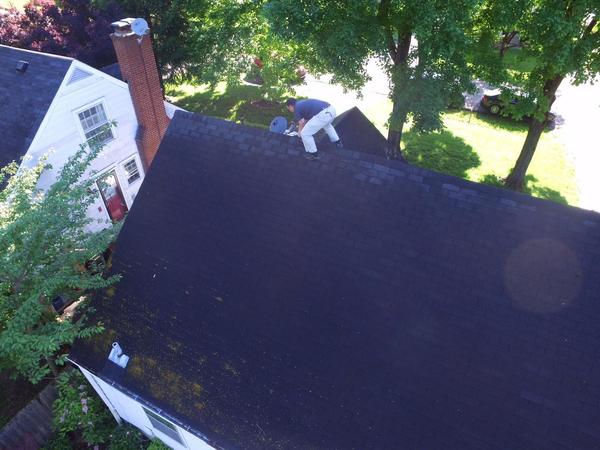 that's Jason on a roof. We walk the roof if at all possible, and that's probably 90 percent of them. It's the best way to do it!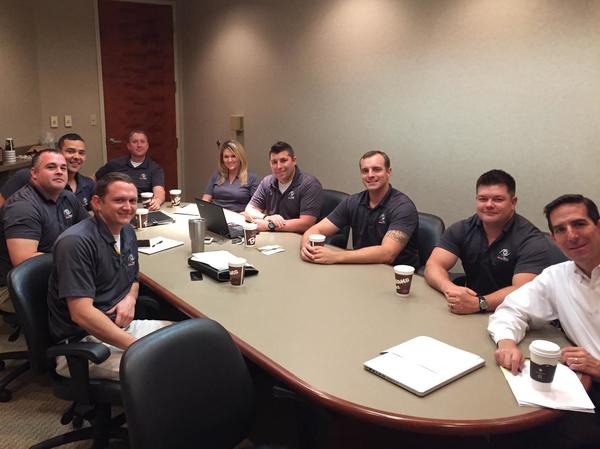 always starts with breakfast and coffee! Another opportunity for us to sharpen our skills and learn how we can better serve our clients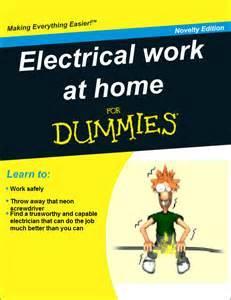 at the clues sellers leave! We find empty jugs of mold-fighting cleaner; buckets under a leak in a roof in the attic; "spare" plumbing parts; books like this..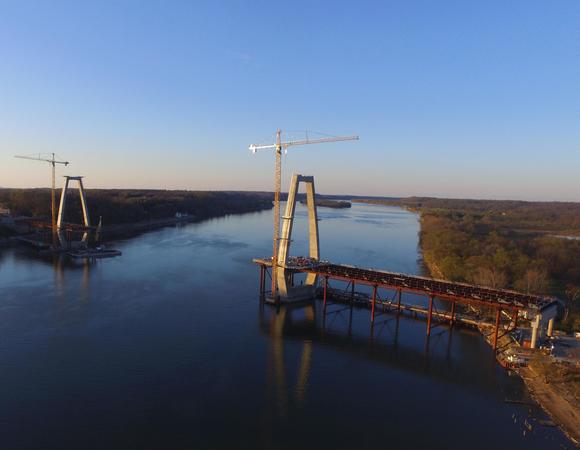 took this from my drone recently. Once this bridge opens, commerce in the region will accelerate, including home sales. Get ready! Neat pic, too!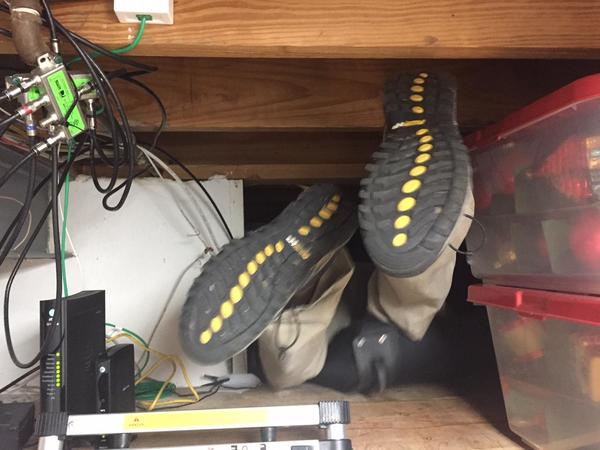 never fun, but always important to get in and take a look around! Took this pic on an inspection last week. That's Tommy getting into a crawl space. Nice work!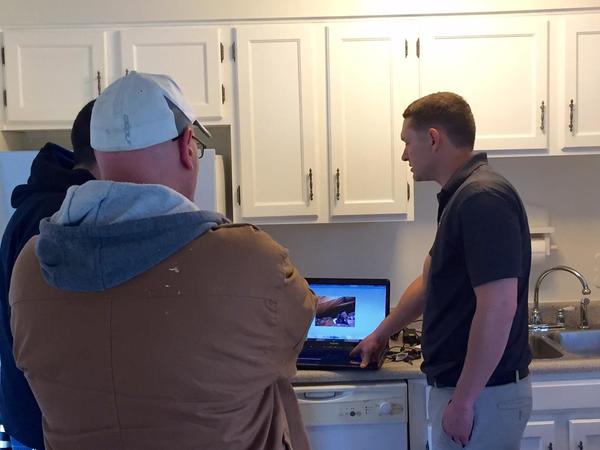 giving a walkthrough to buyers. We review photos onsite of hard to reach areas, such as attics, roofs, and crawl spaces to make sure everybody understands our findings. Tommy is one of our Master Insepctors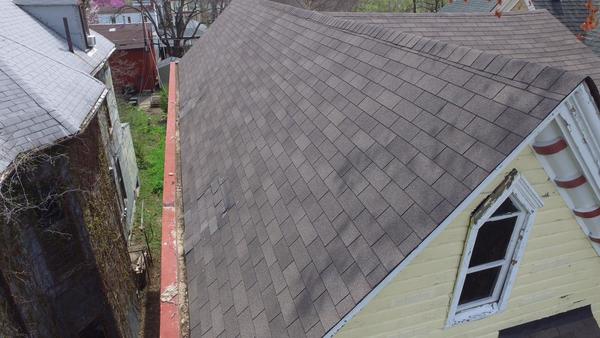 often helps us get a better perspective. On rare occasions we are unable to walk the roof or view from the street due to angle - the drone can be a great help!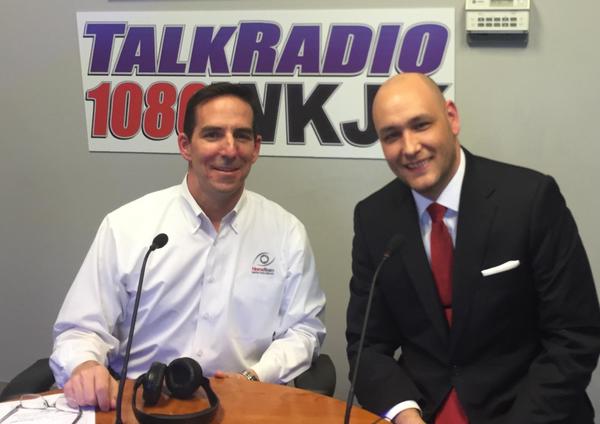 with Jerry Hodges! Taped a show today that will air Saturday at 11 and again on Easter Sunday at 10 am on Talk Radio 1080. Introduced by Stephanie Clements and the Homeowners Resource Guide- check it out!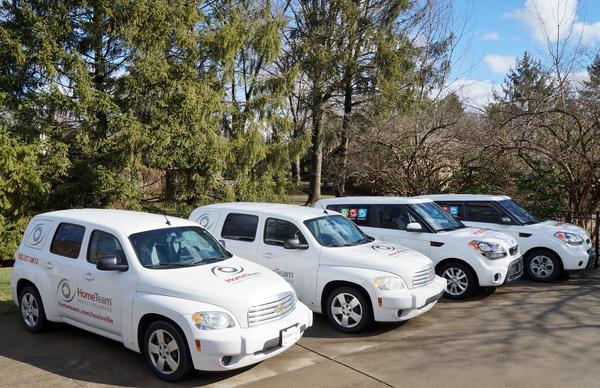 rare photo of all of the cars together! Our branded vehicles underscore our commitment to professionalism in every aspect of our service. More to come soon!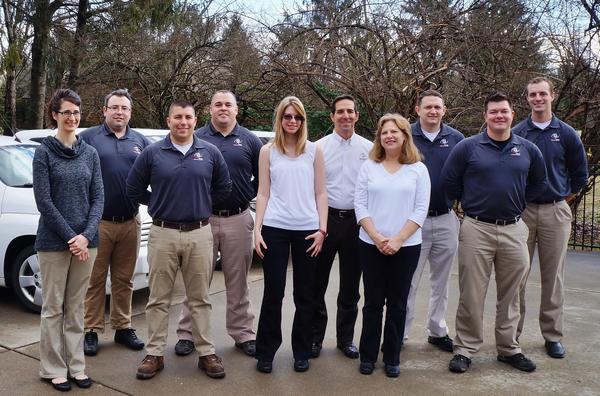 Had a chance to get the whole crew together recently. Great to be HomeTeam! Thanks to www.imagineframedphotography.com for the professional pics!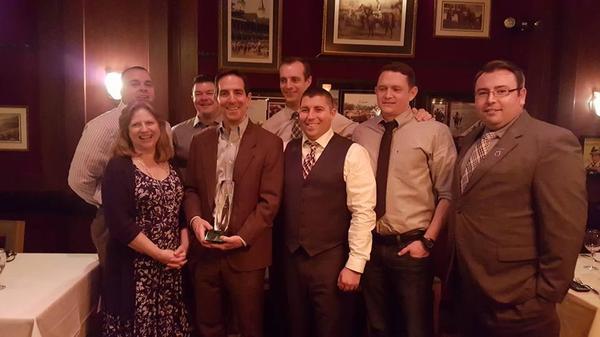 What an amazing feat these folks accomplished- I'm so proud of our team! Celebrated last night with our families and friends the amazing year we had in 2015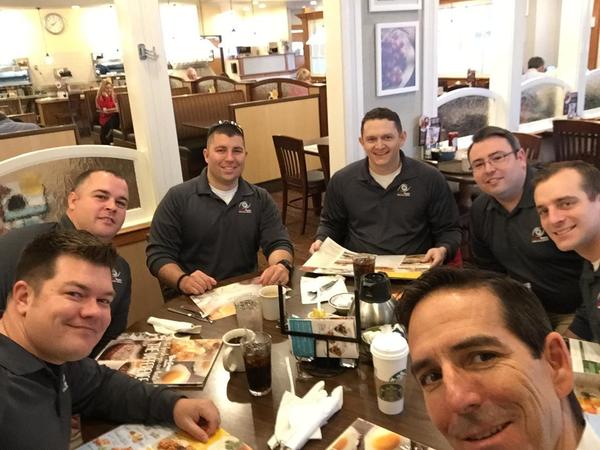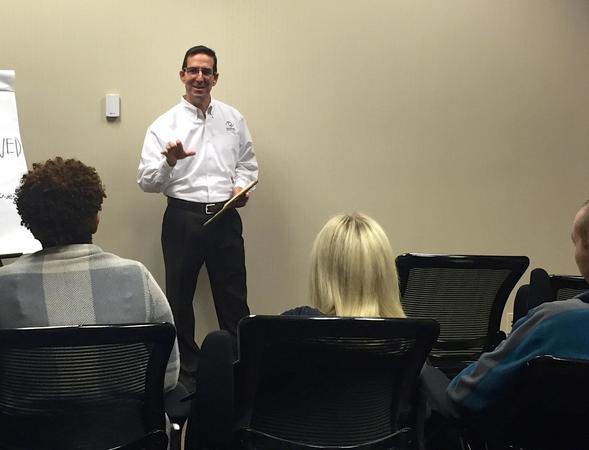 one of the key components of what we do. This is from a new homebuyer seminar we did last night at Re/MAX Premier Properties with Zack Pitts and his team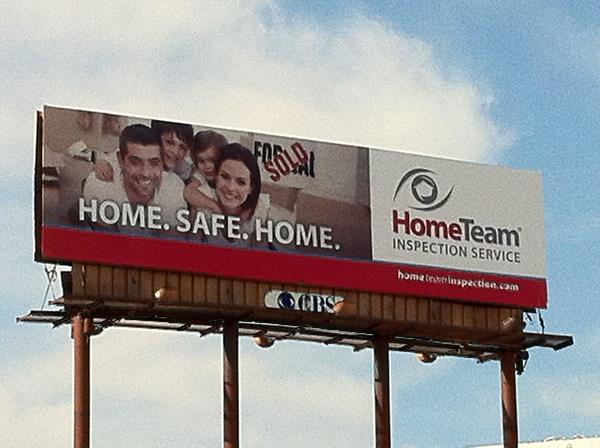 Always a good feeling to see the team expanding.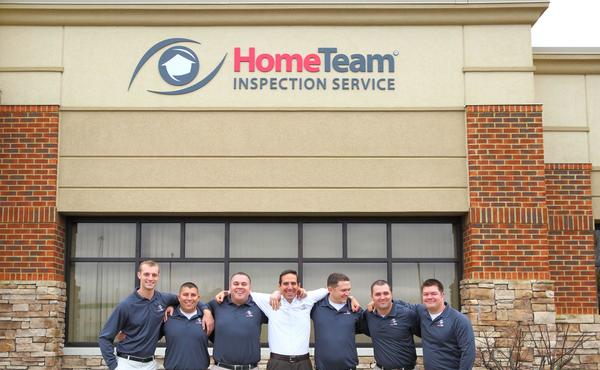 Wow! We were recently named #1 of over 100 HomeTeam companies in the entire country for 2015! That is the first time the honor has gone to a company outside of TX or FL (much larger markets) in over 20 years. Proud of our guys and gals!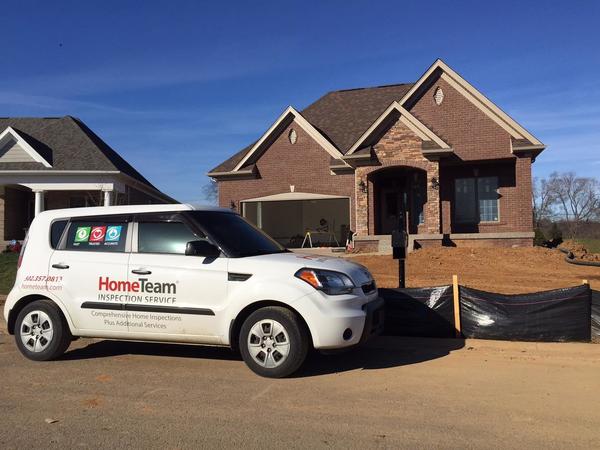 Always good to see! Inventory is still low, and builders are slowly getting back into the market. Inspected this yesterday. New homes def need inspections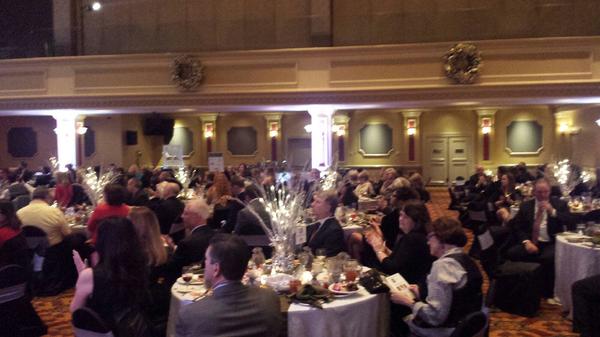 Southern Indiana Realtors Association (SIRA) dinner was a big to-do, and we were proud to be a major sponsor. The last couple of years SIRA has really stepped up, and we appreciate the professionalism and commitment the Realtors display. Congrats to all of the new officers!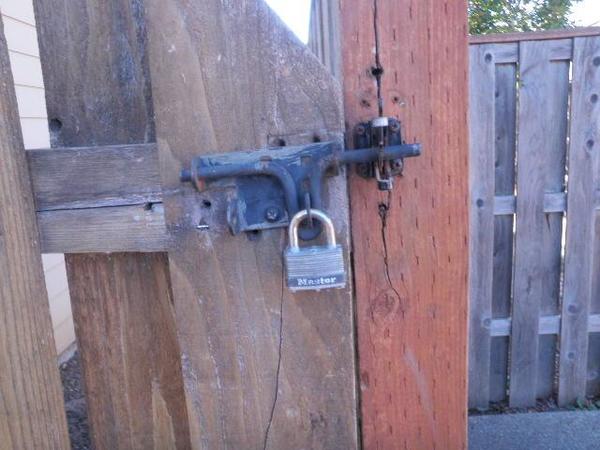 Look closely- probably not going to keep anybody out. These are the kinds of things that keep us smiling!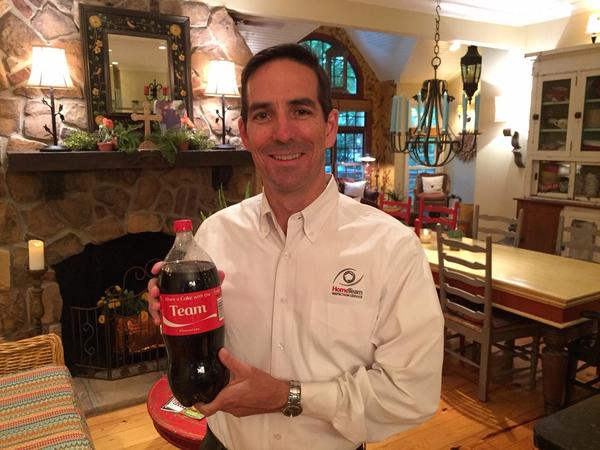 HomeTeam sponsored a Broker's Open House last week, and as I was pouring a Coke, @Kathi Jaggers remarked that I had picked up the right bottle! Seemed very appropriate since our team approach has made all the difference.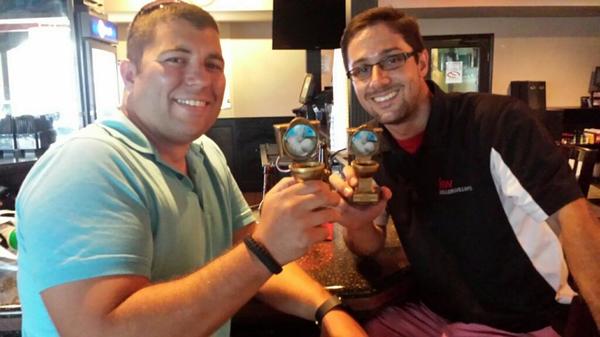 After receiving the toilet bowl trophy for his team's efforts supporting Alzheimer's today. A great effort! Thanks to Riad Otoum (pictured) and Kathryn Sotelo's At Home In Louisville team for inviting HomeTeam to participate!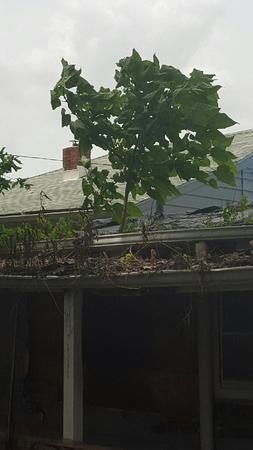 a tree through a roof. We often give advice to sellers who are preparing their home for an inspection. Service the HVAC, check for plumbing leaks, look for any ceiling stains, you know the drill. May have to start adding, "Remove any trees growing through the roof."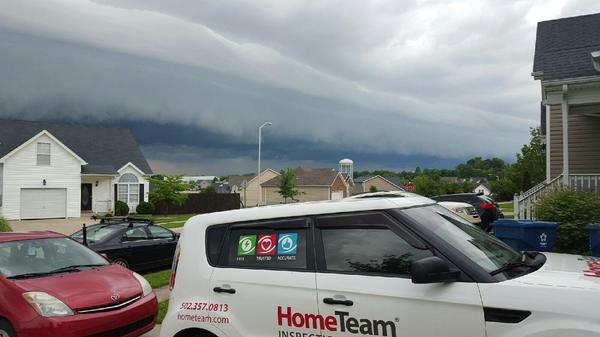 one of the benefits of working in the field rather than in an office! Interesting picture Mike Dreyer took this morning of a front rolling in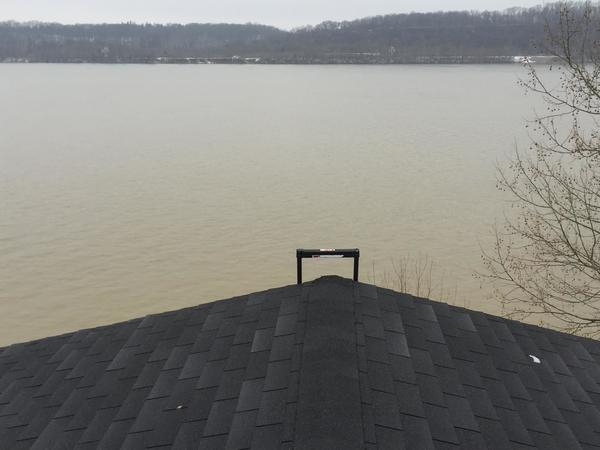 This is the view from a third story roof we looked at today, looking from Kentucky to Indiana. By the way, we serve BOTH sides of the river :-)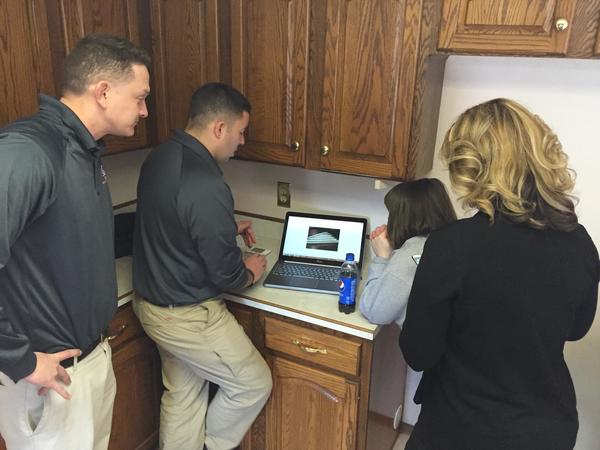 We always go through photos with the buyer and agent- it helps to explain some of the hard-to-see areas like attics, roofs, and crawl spaces.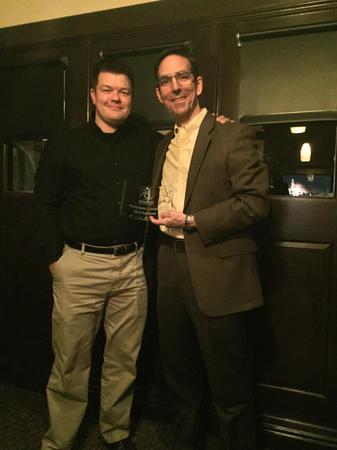 A real superstar! Mike has been a leader and key part of our success for nearly five years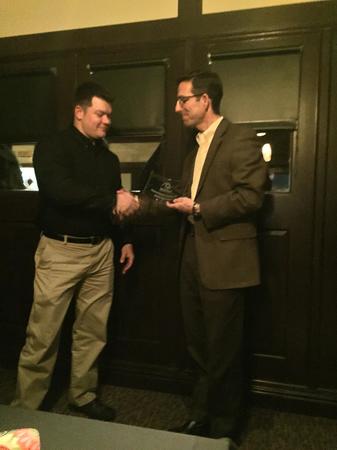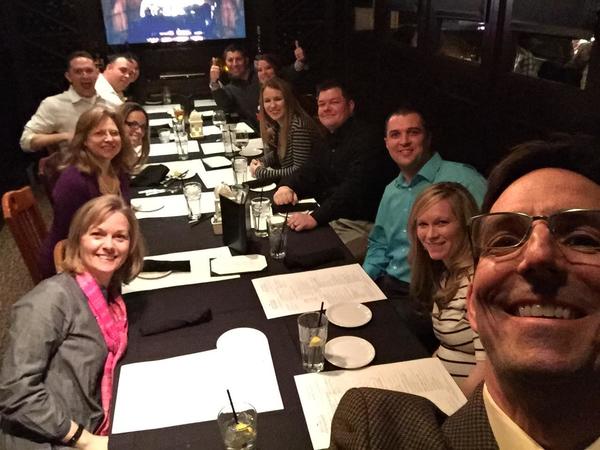 Celebrating success! A wonderful dinner together at Mitchell's Fish Market. Note- Beth Farish came all the way from the Wash, DC area to join us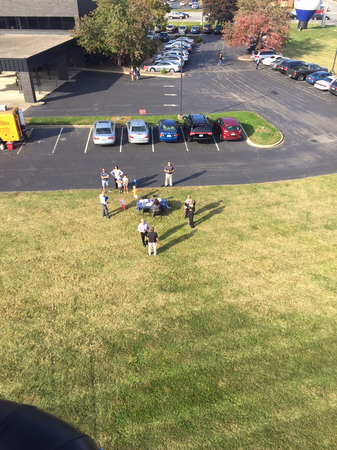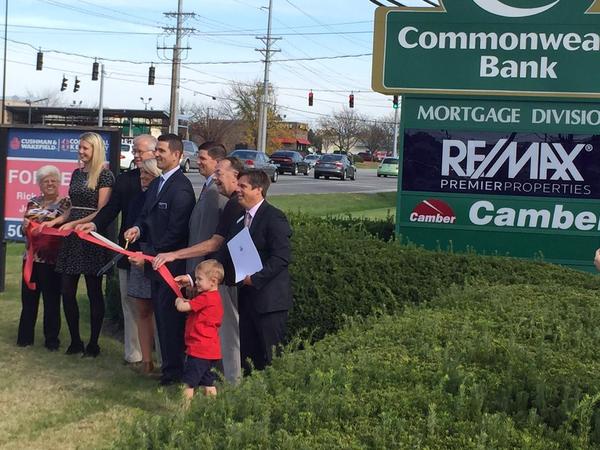 Spent an afternoon helping Jay and Zack Pitts and their team celebrate the grand opening of their new business on Shebyville Road last Friday. Congrats!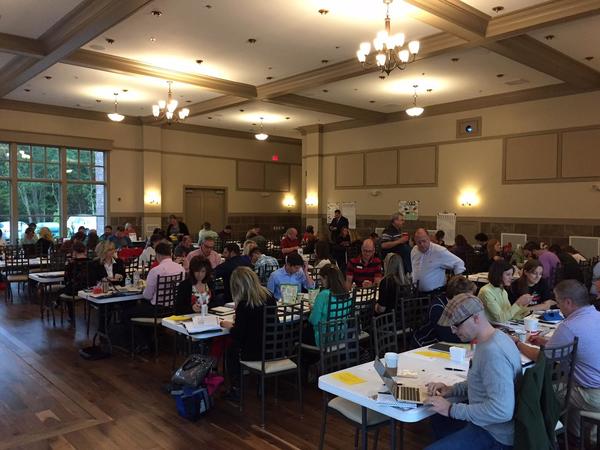 we sponsored two full days of training held for Keller Williams agents, the tail end of a 7-week course. Pretty amazing- very high energy, and a great way for the Realtors to expand their businesses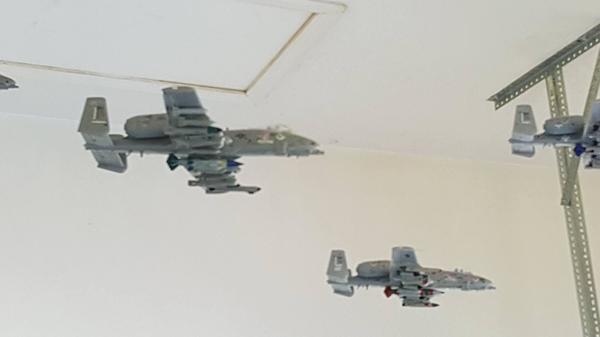 best security system ever! The seller of a home we inspected today was a real airplane enthusiast, and he had a formation of A-10s armed to the teeth "flying" in his garage. He was pleased we were so interested, and he allowed us to post this pic. Inside he F-22s, F/A-18s, F-14s, and several helicopters. Really nice models, all of which he had made himself.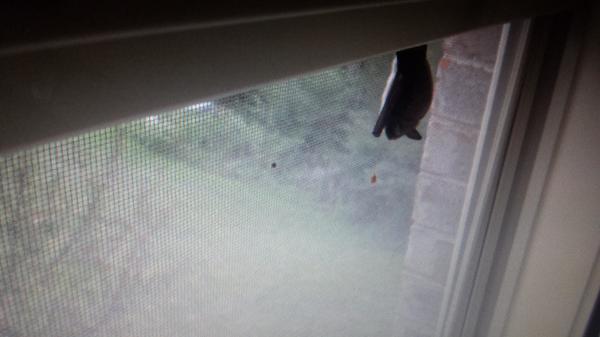 Never a dull day out there. One of the teams was inspecting a home last week and opened a closet door. Out flew this bat, and after he (she?) flew around a bit, he settled down and rested, comfortably hanging upside down.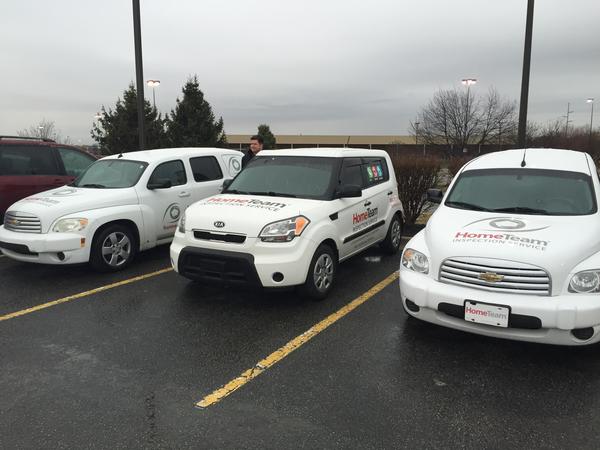 At least once a month we get together for group training (and breakfast). This is a rare sight- all three of our teams' vehicles in the same location.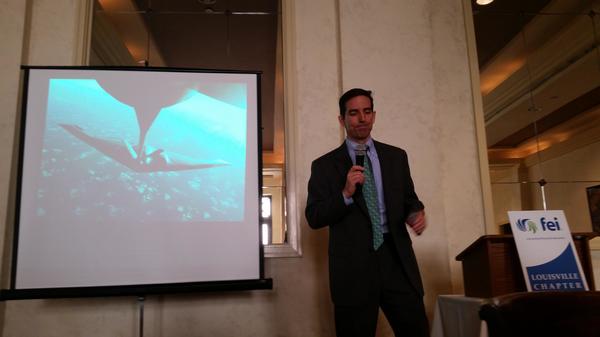 B-2 slide. If we're lucky, we may see one of these at Thunder over Louisville this year! Military teamwork translates well to our home inspection teamwork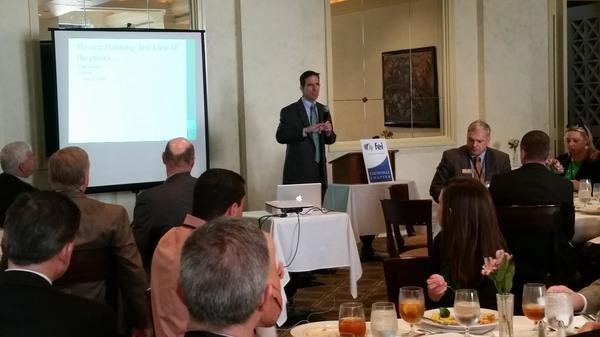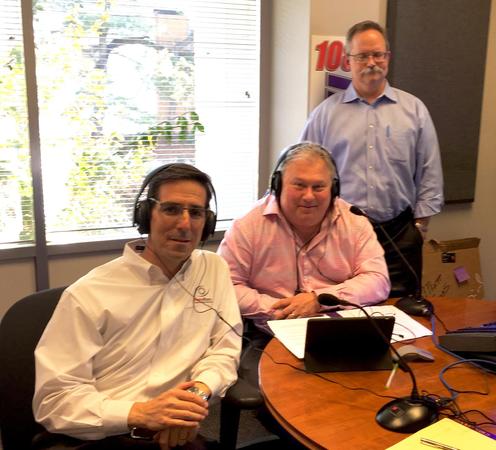 We do a radio show on 840 WHAS with Bob Sokoler every two weeks- it airs on Sunday mornings. L to R: Brian O'Rear, Bob Sokoler, Chuck Crosby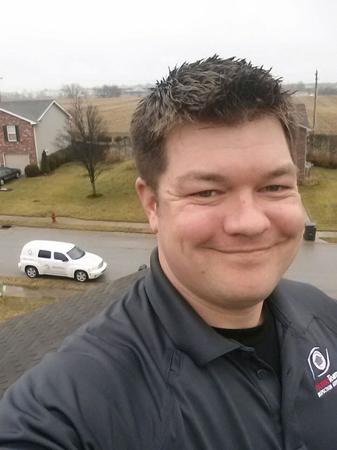 Great pic of Mike on a roof. We had to revisit several roofs recently since they were covered with snow during initial inspection. Note "Lola" in background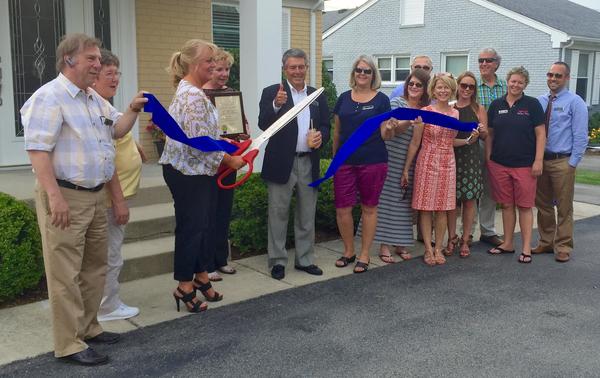 GRAND OPENING of the new Re/MAX 100 office! HomeTeam was the guest of Cherie Suchy and Daneen Smith. They really did it right, with a proclamation from the Mayor and some GIGANTIC scissors. Great food, REALLY good live music, and an awesome new office. Congrats!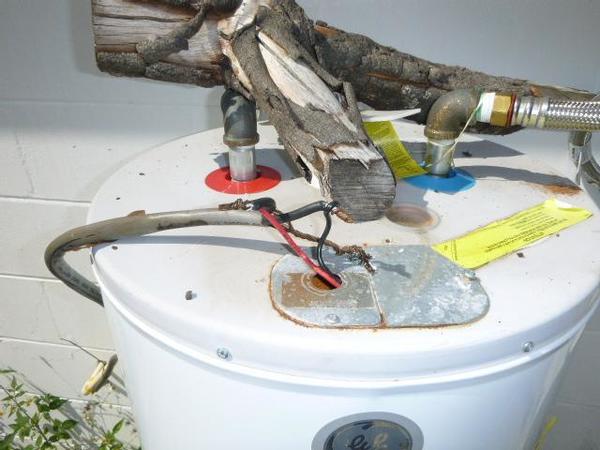 We often see "fixes" like this on properties where a homeowner is a little over-confident in his abilities to perform simple household maintenance...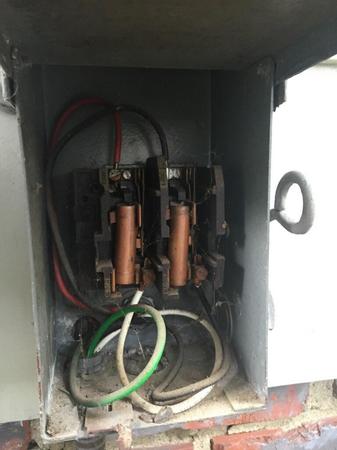 the homeowner had replace actual fuses with ... copper tubing! Yes, he took cut the tubing to the exact size rather than just getting fuses at Lowes!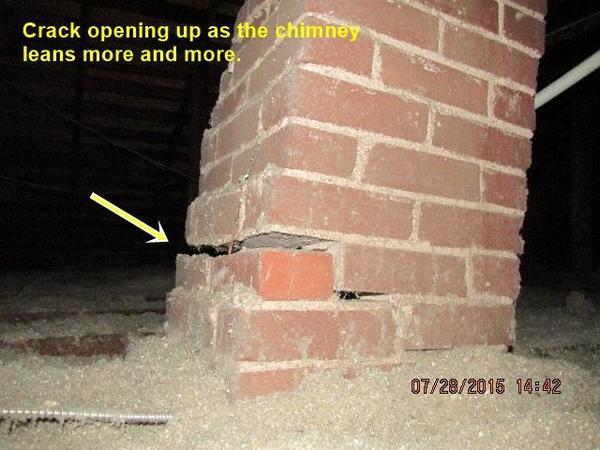 sometimes the "typical" old attics yield interesting finds. This one had a deficient chimney. Hot gas in the dry attic- not a great combo!
Selfie on a foggy day. Be safe, Mike Dreyer!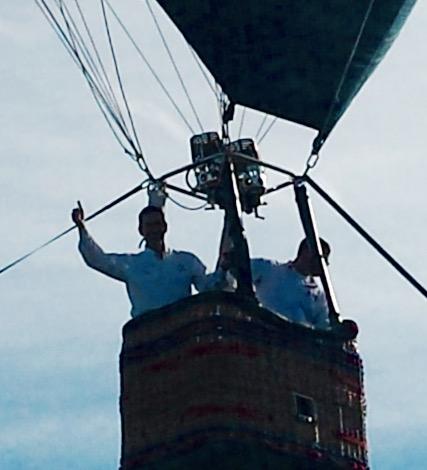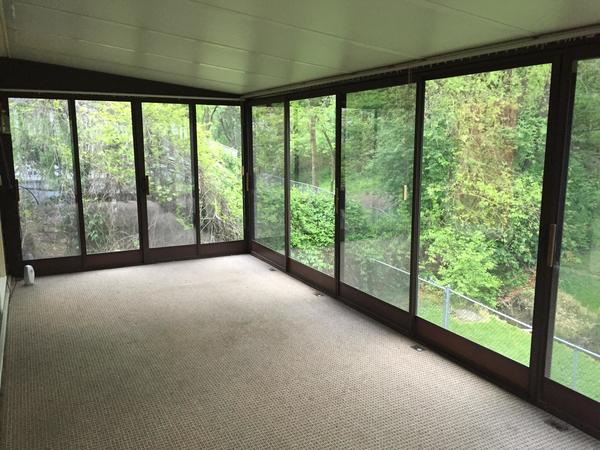 All of these sliding glass doors opened ... to a 15 foot drop! We recommended sealing the doors or otherwise making the area safe. Seems like common sense, but then again, it makes you wonder why this setup was ever added. Made me smile.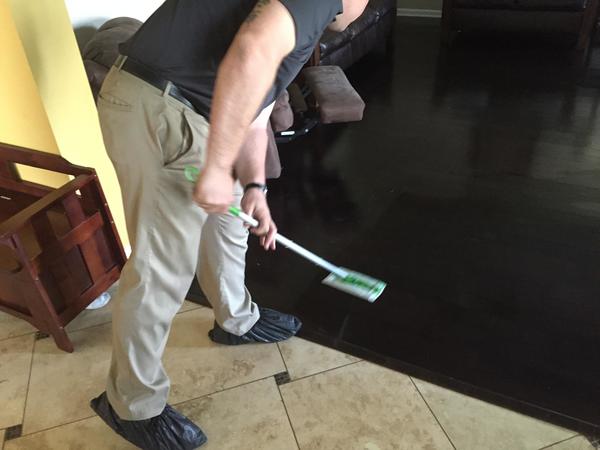 I snapped a pic of Jason as he was cleaning up some dirt tracked in from the extended "family and friends" that came by to see the buyer's home for the first time. This is always such a celebration, and we always enjoy the family's excitement. Notice the shoe covers he's wearing, too. We know it can be a vulnerable feeling to have inspectors in one's home, so we try to show the utmost respect to sellers and their property.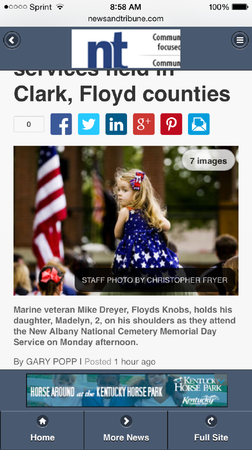 Master Inspector Mike Dreyer attended a Memorial Day event with his daughter, Madelyn. Perfect picture of why we do what we do (and why we did what we did)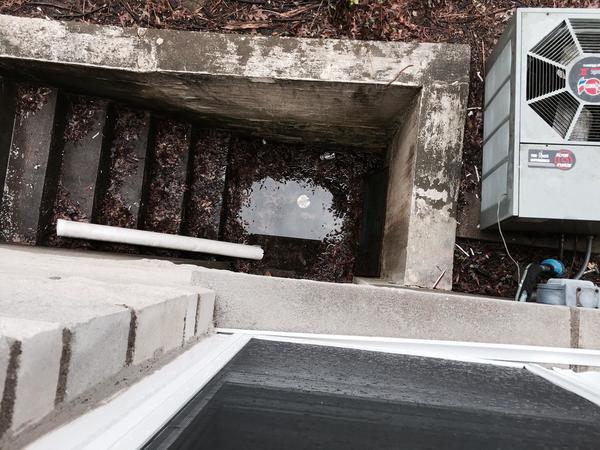 This pic is looking down on a basement stairwell from an upstairs window.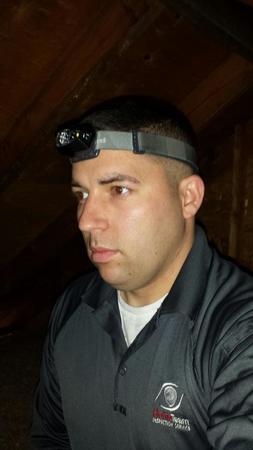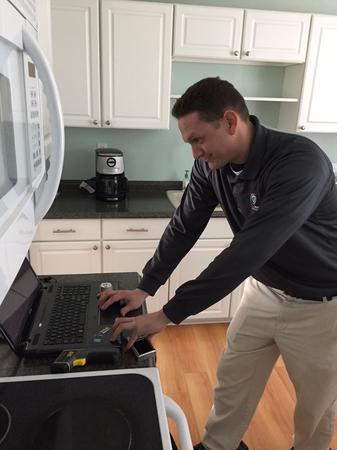 Tommy has been with HomeTeam for nearly 3 years and has well over 1,000 inspections under his belt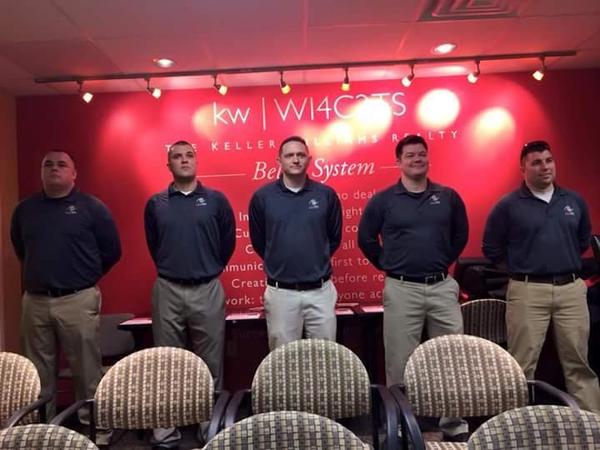 This was at a recent presentation just before we introduced the guys. We brought YangKee Noodle for lunch, but the highlight was getting to see everybody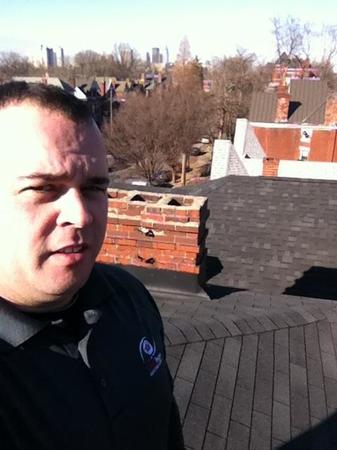 HomeTeam at work a few days before the snows came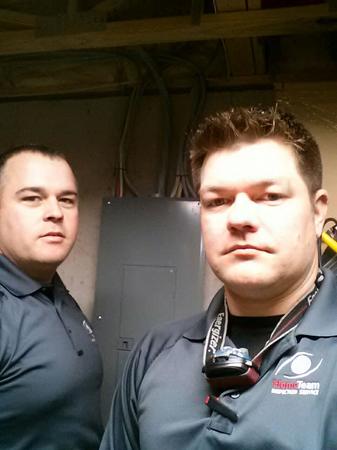 This is Mike Dreyer and Jason O'Leary, two of our experienced inspectors who uphold the highest levels of dedication and professionalism. Great team!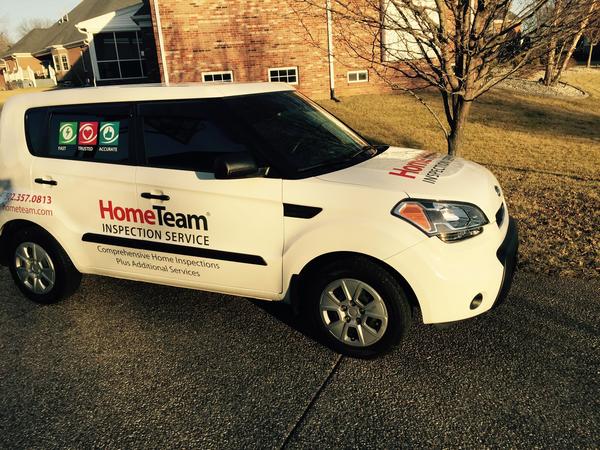 We recently added a new vehicle to our fleet, bringing the total to three cars. Branded vehicles are just a part of the professional service we bring
More about HomeTeam Inspection Service
You can depend on HomeTeam for a faster, more efficient home inspection every time. We bring a team of inspectors to the home and while onsite, each team member focuses on his or her own area of expertise, which helps us cover every area- from the ground up. With our systematic approach and detailed reports, real estate professionals, homebuyers and home sellers alike can have confidence in our exceptional quality, value and dependability. Fast. Trusted. Accurate. That's the HomeTeam promise.
Related categories for HomeTeam Inspection Service
Is your business listed correctly across the web?
Copyright © 2018 Topix LLC