Accord Moving, Inc
Serving Lafayette

Call Today, and get a christian based company
107 S 26th St.
Lafayette, IN 47905
Main (765) 448-4713
website
Business Hours
Monday: Open 24 hours
Tuesday: Open 24 hours
Wednesday: Open 24 hours
Thursday: Open 24 hours
Friday: Open 24 hours
Saturday: Open 24 hours
Sunday: Open 24 hours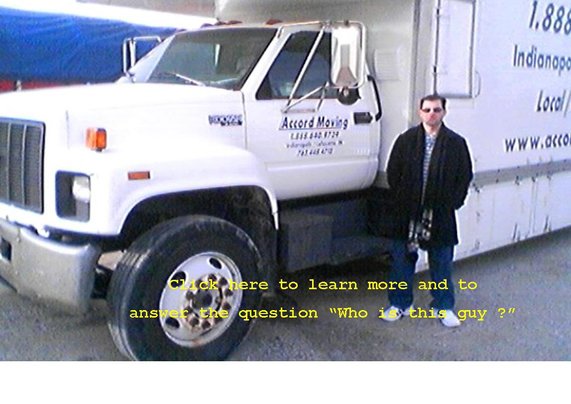 More about Accord Moving, Inc
Professional, Full Service Moving
Uniformed, Professionally trained crew
Any size job, Office or Home, large to small
Office moves
Room to Room moves
Auction moves
Furniture pick up and delivery
Haul away of unwanted items
Who is Accord Moving Inc ?
Aaron has been a mover for more than 20 years and he knows his business.
When you talk moving with Accord, Aaron is the person you are probably talking to.
Accord was founded in 2004 on a simple principle.
Do the best job possible, tell customers the straight story, promise only what you can deliver and be fair.
When you move with Accord, you don't get empty promises.
You don't get the runaround. We don't play phone tag.
We strive to be the best we can be on every move.
The moving business is all about people, and while we do not claim to be perfect, we always strive to do our best to make our customers happy.
Every day is a challenge to be better than we were the day before.
What's our mission at Accord Moving ?
First, we want to be your mover forever. Every time you need to move or have anything picked up or delivered, we want you to have confidence you can call us and we'll get the job done for you, just like you want it.
Second, We strive to make your moving day hassle free (as much as possible) and we try to give every customer the best rate possible. We do that by upgrading equipment , monitoring industry trends and continuous crew training.
Third, No surprises. We document our work and explain all the elements of the move before a single item goes on the truck. You have questions? No problem we'll be glad to answer any questions you may have. We believe in full disclosure.
Related categories for Accord Moving, Inc
Copyright © 2016 Topix LLC