Fort Myers Harley-Davidson
Serving Fort Myers

Call Now For Specials
2160 Colonial blvd
Fort Myers, FL 33907
Main (239) 275-4647
website
Business Hours
Monday: 9:00am - 8:00pm
Tuesday: 9:00am - 8:00pm
Wednesday: 9:00am - 8:00pm
Thursday: 9:00am - 8:00pm
Friday: 9:00am - 8:00pm
Saturday: 9:00am - 5:00pm
Sunday: 10:00am - 4:00pm
Payment Accepted
Financing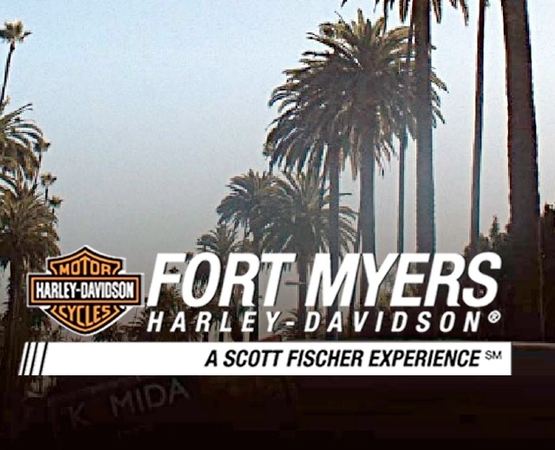 As a family-owned dealership, we take enormous pride in our reputation. Whether you're a first-timer or a life-timer, you're going to love the Fort Myers Harley-Davidson® experience. If you're on the road or in our stores, all of us at Fort Myers Harley-Davidson® work hard every day to build quality relationships with our customers.
More about Fort Myers Harley-Davidson
Fort Myers Harley-Davidson has been serving the greater Southwest Florida area since 1982. Our excellent reputation is built upon the premise that our dealership provides MORE than just the great ride you get on a Harley-Davidson motorcycle. Our customers are always made to feel like our showroom is their home away from home while they shop for their new Harley-Davidson motorcycle. They are invited to join us every Saturday morning for complimentary coffee and bagels, and so are you.
There are many additional benefits that distinguish us from other motorcycle dealerships. For example, we have a current activities board in our Customer Service area, which is constantly updated with local bike events and information. Our Service Department always installs your motorcycle tires at the lowest guaranteed price installed when purchased from our dealership, plus, you receive a free bike wash with every service appointment.
Whether you are a regular customer or just passing through the area, our doors are always open. We welcome the opportunity to show you the finest selection of Harley-Davidson MotorClothes Apparel, accessories, novelty items, parts, and our own special brand of HOGcare Service Excellence. Come and experience Fort Myers Harley-Davidson weve been More than just The Ride for over 20 years.
Escape for a day, a weekend or even a week on a Harley-Davidson. One of the extras here at Fort Myers Harley-Davidson is our rental program. That's right you can rent a Harley-Davidson from us! With your rental you get 24-hour roadside assistance, Harley-Davidson Security System, helmets for both rider and passenger and unlimited mileage. Our entire fleet are 2014 motorcycles!
If you never been on a motorcycle before? YES. YOU CAN RIDE A HARLEY-DAVIDSON MOTORCYCLE It's an attainable dream. There aren't any rules about who can get on a HARLEY motorcycle. You can Learn the skills, Build the confidence and Discover the feeling that all Riders know but can't really put into words. THIS ROAD IS WIDE OPEN!
At Fort Myers Harley-Davidson, we take care of all your needs. Whether you are in the market for a new Harley-Davidson motorcycle or want to check out are Used Harley-Davidson motorcycle inventory. We will be by your side each step of the way.
Related categories for Fort Myers Harley-Davidson
Copyright © 2014 Topix LLC