Dia De Los Muertos USA
Serving Los Angeles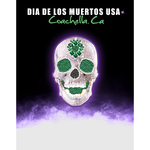 Save the Date November 1. 2014
48350 Van Buren Street
Coachella, CA 92236
Main (323) 848-8499
website
Payment Accepted
American Express, Cash, MasterCard, Visa
More about Dia De Los Muertos USA
Da de los Muertos or Day of the Dead, a long standing Latino holiday with indigenous roots dating back to Aztec times, has taken its place in mainstream culture boasting festivities worldwide. Though traditions may slightly differ among cultures, the holiday (typically taking place from Oct.31-Nov. 2) commemorates the dead and brings families together in enjoyment of life. In keeping with this celebrated tradition, Luz Entertainment in conjunction with the City of Coachella are proud to create the first Da de los Muertos USA spectacular two-day festival taking place on November 1st and 2nd at Rancho Las Flores Park in the City of Coachella. The festival is filled with celebrations of life--a full-on experience featuring art, entertainment and culinary enjoyment created by multi-talented artist-producer and President and CEO of Rodri Entertainment, Luz Entertainment Rodri J. Rodrguez.
Da de los Muertos transcends the once a year celebration. Its a way to honor the dead celebrate the living, said Rodrguez, Visionary Cultural Arts Advocate and Creator of MARIACHI USA, a festival that achieved its 25 year milestone at the legendary Hollywood Bowl this year. Our festival reinforces a positive way of looking at life and death through the many experiences we provide.
Were excited to partner with Ms. Rodrguez, her accomplishments and vision are tremendous, said Mark Weber, Economic Development Manager for the City of Coachella. We anticipate Da de los Muertos USA will become an annual signature destination event attracting audiences from throughout the USA and internationally with thousands of new visitors enjoying the City of Coachella.
Da de los Muertos USA is an all-encompassing cultural event, featuring an all-star musical line-up of live entertainment with various genres of music including Cumbia, Regional Mexican, Mariachi, Norteo, Banda and Pop.
Saturdays Line Up consist of Conjunto Primavera, Banda Machos, Noel Torres, Los Rieleros del Norte, Mariachi Los Reyes and Trio Ellas.
Sundays Line Up consist of Los Tucanes de Tijuana, Vilma Diaz y La Sonora, La Santa Cecilia, MARIACHI USA show featuring Campanas de America, Mariachi Reyna de Los Angeles, Mariachi Los Reyes and Mariachi Tierra Querida.
The art component to the event is massive and will highlight ofrendas-altars including artistic and themed altars paying tribute to various causes and artists such as the United Farm Workers, those who have passed from AIDS and iconic entertainment figures such as Selena, Jos Alfredo Jimnez, Shakespeare, Mozart and many more as well as a community altar for which attendees are invited to bring a photo of a loved one or pet to place on the altar. Da de los Muertos USA will also include large art installations in key locations throughout the park like the Catrina Runway show and the largest Pan de Muertos ever made.
Guests may enjoy traditional holiday delicacies such as Da de los Muertos breads, churros, aguas frescas as well as an array of food truck and restaurant offerings. The event will be filled with fun the entire family can enjoy, such as themed face and body painting mask making and arts and crafts.
Related categories for Dia De Los Muertos USA
Copyright © 2015 Topix LLC