Fred's Italian Restaurant
Serving Grand Rapids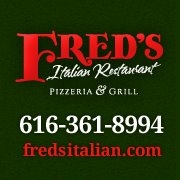 Grand Rapids Italian Pizzeria and Grill! Call us!
Business Hours
Monday: 11:00am - 11:00pm
Tuesday: 11:00am - 11:00pm
Wednesday: 11:00am - 11:00pm
Thursday: 11:00am - 11:00pm
Friday: 11:00am - 12:00am
Saturday: 2:00pm - 12:00am
Sunday: Closed
Payment Accepted
American Express, Cash, Discover, MasterCard, Visa
More about Fred's Italian Restaurant
In the early 1960s, a young man by the name of Ferdinando Pizzo brought a piece of Sicily to Grand Rapids. He opened up a pizzeria and built a very successful business called Freds Pizza, based on honesty and respect. He started in his home, and slowly but surely, word got out about his great cooking. We just grew and grew remarked his son Salvatore Sam Pizzo, who started out washing dishes as a kid.
Eventually, Fred realized that his take-out business needed more; he needed a sit-down dining area, so he turned his business into a dine-in establishment around 1970.
The Fire
On May 1st, 1996, Sam closed the restaurant for the night and headed home around Midnight. A few hours later he got a call from a Sheriffs deputy: The Restaurant was burning. Sam lived four blocks away, and he could see the smoke when he got halfway there. Freds Pizza burned to the ground.
It was determined a power wire had fallen across the sign in front of the restaurant. Electricity arced from the sign. Sparks flew from other parts of the building, including the roof. The electrical box lit up and glowed. To avoid electrical shocks, the firefighters had to fight the blaze from outside the structure. A block long stretch of the avenue was closed as firefighters fought the fire. This was not to be the end of Freds Pizza, as Fred and Sam rebuilt the restaurant where the old one had stood. The neighborhood was relieved to have their restaurant back, and better than ever. 50 years later, Freds Italian Restaurant is a Grand Rapids area tradition.Sadly, Ferdinando passed on in 2010. But the vision of Fred Pizzo continues, as Freds Italian Restaurant is currently being operated by his son Sam Pizzo and his family. Thanks to Sam having the same traits as his father, that same piece of Sicily lives on. The rich family tradition continues!
From Freds traditional oven baked pizza to the mouth watering seafood, succulent prime rib, fabulous juicy chicken and savory salad, every menu item is sure to give your palate a treat. Of course, every meal is greatly complimented by the generous selection of wines, liquors, and beers. Stop in for a taste of local Italian tradition.
If youre looking for a Grand Rapids restaurant with that home cooking, mom and pop, family friendly atmosphere, Freds authentic Italian dishes, along with our full range menu, offer something guaranteed to please everyone.
If youre too busy to come see us, please take advantage of our delivery and catering services. You wont be disappointed!
Related categories for Fred's Italian Restaurant
Copyright © 2015 Topix LLC