joyce rebhun inc
Serving Beverly Hills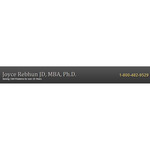 Call Today
8500 Wilshire Blvd 5th Floor, #519
Beverly Hills, CA 90211
Main (310) 657-8553
website
Business Hours
Monday: 6:00am - 2:00pm
Tuesday: 6:00am - 2:00pm
Wednesday: 6:00am - 2:00pm
Thursday: 6:00am - 2:00pm
Friday: 6:00am - 2:00pm
Saturday: 8:00am - 12:00pm
Sunday: 8:00am - 12:00pm
More about joyce rebhun inc
Dr. Joyce Rebhun is here to help you with any tax problems. From delinquent tax returns, appeals, payroll taxes, liens, levies, wage garnishments, property seizures, business, sales & payroll tax issues and all matters before the United States Tax Court.
Dr. Joyce Rebhun is an experienced tax consultant and an expert for negotiating these sensitive issues. Dr. Rebhun has 32 years, and spent 5 years working for the IRS in a senior position. As a tax consultant, she can handle your Federal or State case (in any state), and is admitted to practice on the Supreme Court of the United States of America.
Dr. Rebhun has offices in Europe, and helps American Servicemen and ex-patriots all over the world, including, France, Italy, United Kingdom, India, Asia, Japan, Iraq, Afghanistan, Saudi Arabia, and Lebanon.
Related categories for joyce rebhun inc
Copyright © 2017 Topix LLC